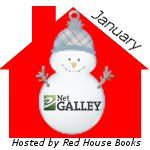 Yay for another NetGalley month!
Darker Still (Magic Most Foul #1) by Leanna Renee Hieber: review
Cinder (Lunar Chronicles #1) by Marissa Meyer: review
I seriously <3 NetGalley...I really wouldn't have access to popular ARCs otherwise!
Thank you Netgalley!
And thanks to Red House books for hosting this! Though I read the fantabulous books I get approved for...I'm kind of slow, and this helps speed things up for me.
Check it out and participate!